Your day, the Iowa way.
Your wedding day will be filled with excitement and a lifetime of memories. As a full service catering company, we work with venues in the Iowa City, Coralville and surrounding areas. At University Catering, we understand the importance of this day and would love to partner with you. 
Partnerships That Last
Located in the heart of Iowa City, we've played an important role in the community for years, working to build and maintain strong relationships on and off campus. Whether you're looking to host your wedding on the University of Iowa campus or at an off-campus venue, we'll work with you to ensure you have an unforgettable day no matter what location you choose.
A Day as Unique as You
We know that you have envisioned everything about this day from the look, style, and setting of your wedding. Our team takes the time to understand your unique vision and personal taste, to ensure your day is the perfect reflection of you. When your wedding day arrives, you can enjoy the moment knowing that everything has been taken care of.
Exceptional Staff
Providing beautiful and creative experiences is what drives our team forward. It's our goal to create an experience that truly captures the unique style of your wedding day. Our team of caterers, bartenders and on-site event specialists will be available to ensure your evening goes seamlessly for you and your guests, while allowing you to create memories that will last a lifetime. 
Included in Your Day
From wedding planning services to complementary hors d'oeuvres, we strive to create a stress-free experience for you and your guests.  View our wedding menus and find out more about what is included in your day. 
Two complimentary hors d'oeuvres
Winter wedding tasting show (invite up to 4 guests)
On site event supervisor and catering waitstaff
Complimentary bar attendants
Complimentary china and glassware service for events in the Iowa Memorial Union ($3.75 per person at all other locations)
Complimentary Linen Package in IMU Only
Black or White Table Linens
Black or White Napkins
Beverage stations or beverage service to guest tables
Table numbers and holders
Complimentary centerpieces in IMU only (subject to availability)
Battery operated votives
Candles and mirror tiles
Flexible floor plan- for weddings held at IMU (includes set up and tear down)
Food and Beverage Menus
Add on food and beverage items to enhance your wedding day experience. Find out more about what items you can add onto your wedding package.
Rental Items
Need additional items that help you upgrade your wedding day? Rental items can be purchased through University Catering or through the Iowa Memorial Union (IMU). For rental items, you will need to consult event services for more information on the updated pricing, AV equipment, lighting, and draping.
Please note that prices are subject to change and have a 25% service charge. All items and rental are subject to availability. 
Frequently Asked Questions
As you continue the planning process, we've highlighted a few of the most common questions that our team receives. 
Some of Our Favorite Weddings
Below are examples of some of our favorite weddings.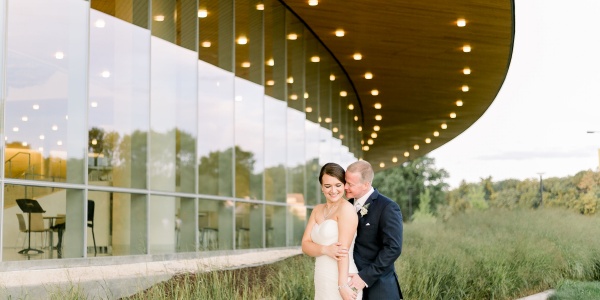 Modern views and an artistic atmosphere.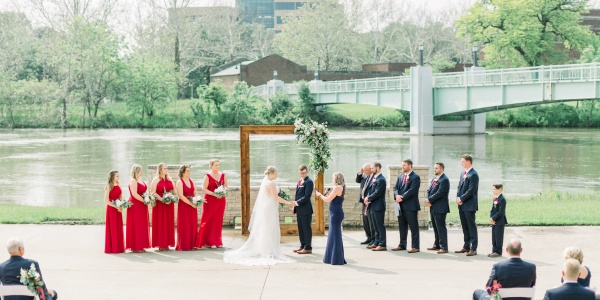 Iowa Memorial Union (IMU) Wedding
Campus scenery and historical settings.